Adoptive Parents of Vietnam List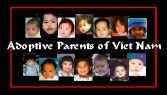 You can sign up for the the Adoptive Parents of Vietnam mailing list to discuss adoption from Vietnam with other parents and adoption agenies. It is the most popular and well known discussion group for Vietnam adoption on the internet.
Six years after we first started APV, we "retired" as listowners. It has been wonderful to see this online resource grow over the years. The new listowners are Linh Song and her husband Dug, founders of the Mam Non organization. You can subscribe to the APV at http://groups.yahoo.com/group/a-parents-vietnam/
You are also invited to subscribe to our print newsletter Chao Ban, for families of children adopted from Vietnam at the Chao Ban website.
Return to Vietnam Adoption