Hong Kong Museum of Art
By Allison Martin
The Hong Kong Museum of Art is a wonderful resource on the arts and cultural history of China for adoptive parents. Located on the waterfront of the Victoria Harbor in Kowloon, it is easily accessible even to travelers spending only a few hours in the Hong Kong area. The spacious building houses several floors of antiquities, art and and artifacts - both modern and ancient.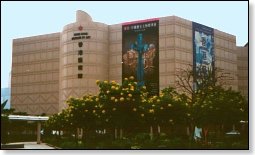 A walk through the museum provides a glimpse of China's rich cultural heritage and a intriguing view of its influence on the Asian art.
| | | |
| --- | --- | --- |
| | Porcelain, pottery, paintings, calligraphy and textiles are all presented in a pleasant and impressive display. The antiquity and design of these cultural treasures is breathtaking. | . |
Although the Museum encompasses several floors of exhibits you can see much of it in an hour or so, if you can resist lingering.
Each section displays a major realm of art: calligraphy, pottery, painting, and modern painting. Panels hanging on the walls provide brief synopses in English of the time line and geographical origins of the artifacts. Displays of detailed embroidered ceremonial garments are scattered in with the exhibits, providing a more personal view of into the time periods.
The arrangements of the pottery and other works of art by chronological age are a dramatic lesson in the slowly sweeping changes over time and across nations. For example, the few pieces of pottery of other countries shown (including Vietnam and Cambodia) demonstrate the influence of China over time on artists in those countries.

This almost wordless display is more evocative of the age and influence of Chinese artists on the art of Asia than many texts.
| | |
| --- | --- |
| The National Treasures Exhibit, shown in early 1998, exhibited 163 of unique treasures of art from museums and archaeological finds around the world. Bronze, jade, gold, silver, bone, ivory, and lacquer artifacts were shown. Many materials are up to 16000 years old. I was lucky enough to visit during this exhibit and it was truly awe inspiring. | |
At the Musuem Shop downstairs, you can find a wide selection of art books in English along with postcards and small gifts. The cards and books are well worth a quick browse if you have an interest in the art of China. Unfortunately there are few photographs or reproductions of the artwork represented in the musuem.

For more information, you can visit the Hong Kong Art Museum web site.